CASTELLA
We did not get away from Castella till 5 a.m., though we were called at 3; Janni is slow. Groups of sleeping children — puppies licking them! "Happy Autumn fields"[33] we pass over — glorious plain of Castella and Psachna. Two storks lumberingly fly by. Begin to ascend hills covered with pine, and for three hours the views and the trees grew more and more delightful and interesting — stupendous groups, feathery, and blue mountains beyond. Drew, baggage sent on. {sketch 70} 9.30, top of hill. Luggage and all spread out under great plane trees, a fountain near. Here we dined and then slept, 11 to 12. Soon I drew again, and we left at 2.30 p.m. Janni sent ahead to Mr Müller's of Achmèt Agà. Long descent by beautiful Ilex woods, a perfect garden shrubbery. Then deep vales of pine, and fine foreground — pine groups and immense rocky mountain. The pass below is one of the most beautiful I ever saw — so stuffed with vegetation. First, the running river, then Oleander endless; above, huge planes, hung with clematis or creepers, or oaks, or taller abeles. Above all this, infinite tall or branchy pine, some dead and glittering: "but it blooms not again."[34] On the right of the pass were vast red rocks, here and there crowned with pines of great size, or more generally fringed all over with dwarf or young pine and arbutus. {sketches 71, ?72, 75}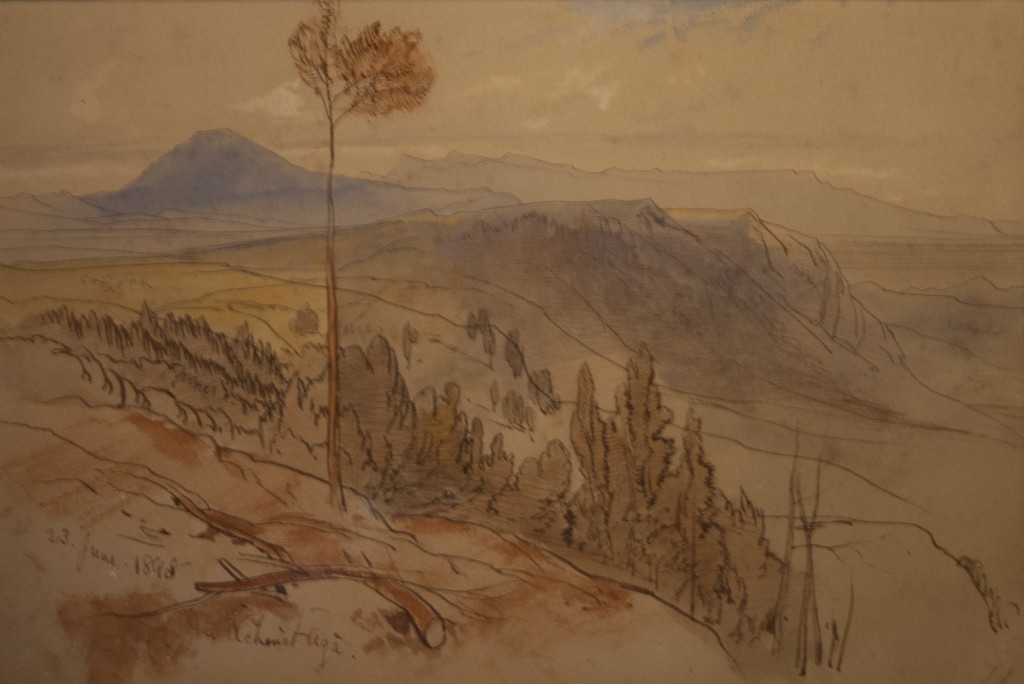 The greenness — Oh! After four hours or more, we opened out on to brilliant cornfields and a close valley, on each side majestic planes, and on our left hand a line of purple piny hills, overtopped by the loveliest possible lilac mountain. At the end of this valley is the little village of Achmèt Agà, and above it stands Mr Müller's house.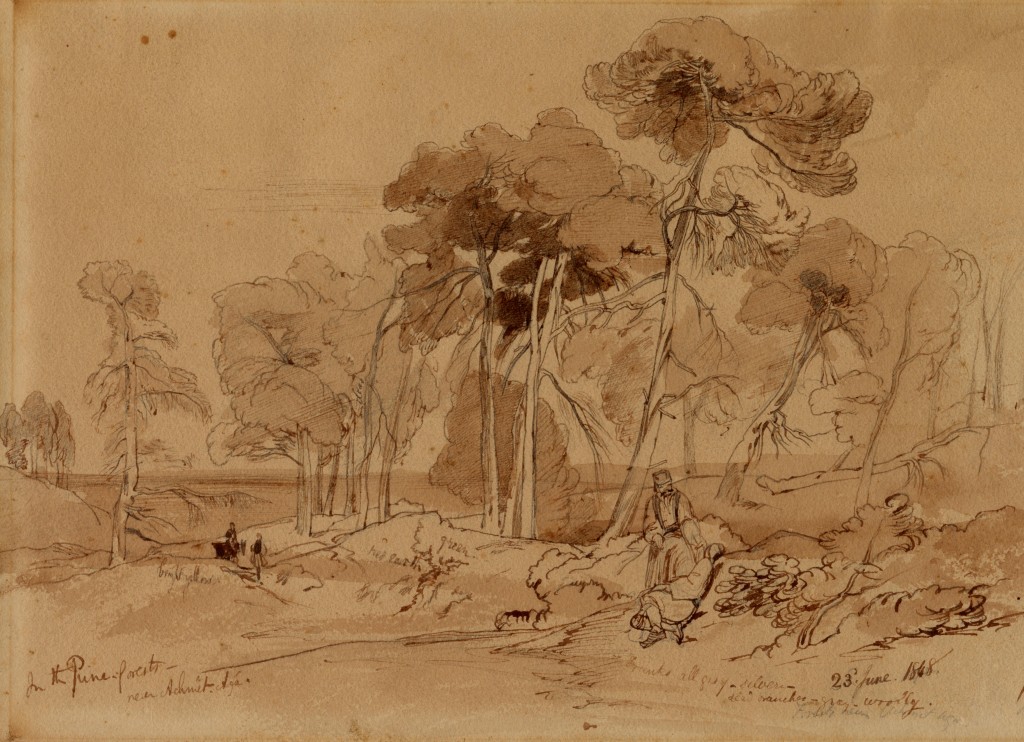 Going along this valley, the extraordinary beau ideal of "Park scenery" took us a full hour — never did I see anything more beautiful. Herr Müller received us very kindly, and seems a good-natured pleasant man. Mrs M. speaks French, and is agreeable as well as pretty. There were a sister and brother-in-law also. We had a walk with them, but it was now too late to draw, so I washed, and then, after an hour of quiet outside the house, we had tea, and everything was as kindly and agreeable as possible.
---
[33] Tennyson, "Tears, Idle Tears".
[34] From Thomas Moore, a favourite poet, Lear recalls that a dead branch may catch the sun "As a beam o'er the face of the waters may glow": "but it blooms not again" (Irish Melodies, 1808).